Sewing: Shopping Cart Cover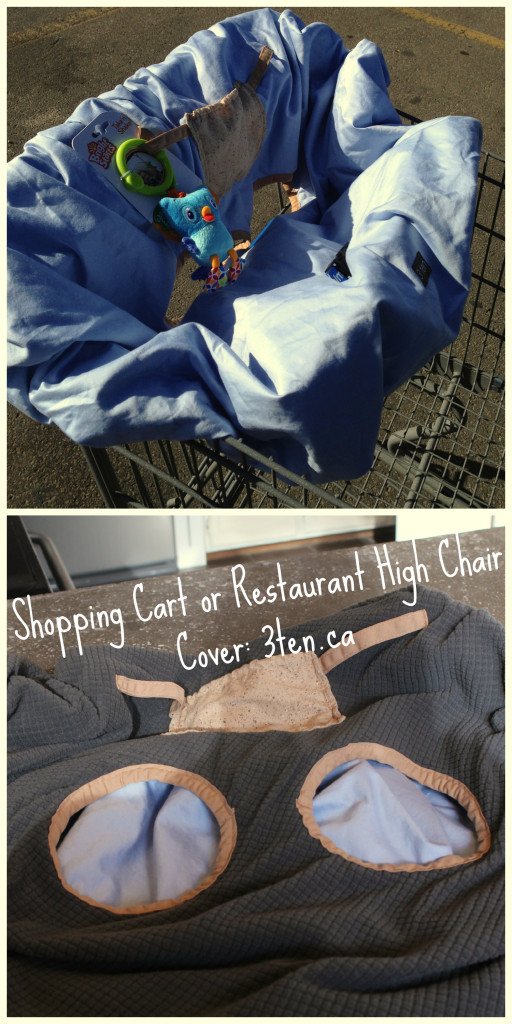 Shopping Cart Cover
This is so handy – use it to cover shopping carts (it's big enough for Costco and Target) or even restaurant high chairs. It's quite universal and will fit a lot of things – even a swing at the play ground…good for some extra padding.
You will need a large amount of fabric for this tutorial by lilblueboo. On this project, I didn't use quilting cotton since I found it too thin. Instead I used a high quality thread count sheet I found at Winners and then some waffle fleece. If you fall in love with a fabric, yet it's light weight, just add a layer of sweatshirt fleece on the inside or something.
Also – I selected coordinating colours, so it would look good either way – 100% reversible.
When it came time for the pocket and toy handles – I thought contrasting colours looked better…easier for the mom to find the pocket quickly. Plus, little kiddos do well with many colours.
Another tip – I used bias tape for the leg wholes – make your own if you can't find any to match.
Happy sewing!
Oh – one last thing. If you give it as a gift, I suggest sending them a picture of it in use (even without a kiddo) mainly because it looks like a heaping pile of fabric if you don't know what it is…just a tip.
Tomorrow – something to match these colours.