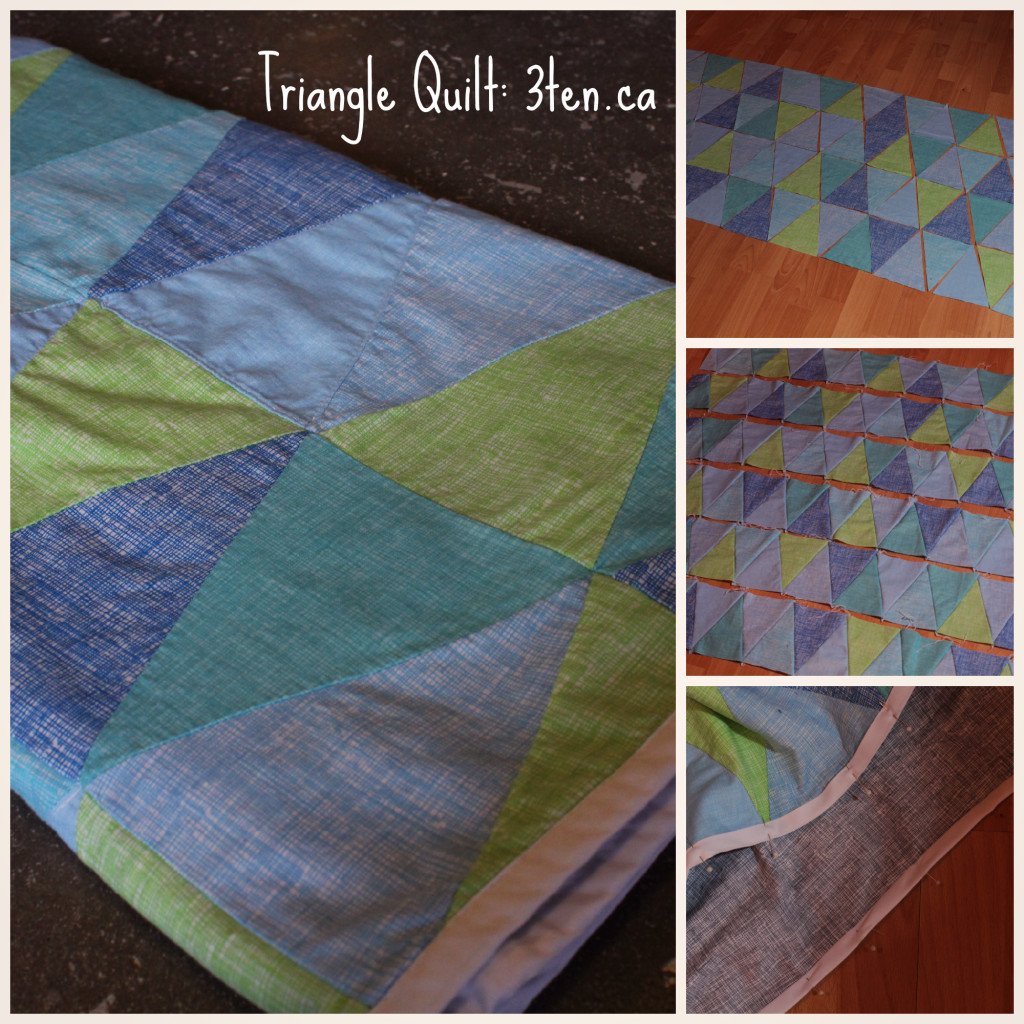 This is my very first quilt – and I wouldn't even really call it a quilt, more like a modern rustic blanket. I worked on it for about a week – not every day or anything – the longest part was sewing all the triangles together. Find some fabric you love and sew up!
What You Need
6 colours of fabric – 1/2 a yard each (for the triangles)
1 colour of fabric – 1 1/2 yards (for the back)
batting – 1 1/2 yards
bias tape
serger
machine
iron
Okay – first, wash all of your fabric. Now, take the 6 colours and cut out 18 triangles that measures 7 inches x 5 3/4 inches. Take one triangle of each colour and cut it in half, right down the middle. Then, lay out your pattern. It doesn't really matter where they go, just mix it all up.
If you want – you could even do only 3 colours, just 36 triangles each – or do 8 colours and cut 14 (or 13) each. You pick! The finished quilt ends up being 40 x 48.
Now, using your serger, carefully line up the triangles and stitch together. Do each row, one at a time. Press each row.
Once you've serged each row together, serge the whole row to the one below – be sure to match up the tips of the triangles with the ones in the next row.
Lay down the quilt – layer the batting between the backing. I stitched all the light blue triangles – just enough to hold it together. Trim the edges.
Bias Tape
Little trick – open the bias tape all the way up and match the edge of the right side of the bias tape with the edge of the back. Stitch along that crease. This will ensure the back of the bias tape is 100% secure – then when you stitch the bias tape from the front, you don't need to worry about catching the other side.
Pin the bias tape over the whole quilt (don't forget to add a label) and top stitch. Press.
Done!
Press it for a polished look.
Happy sewing!
Up next – something super functional!