Tutorial: Mini Diaper Bag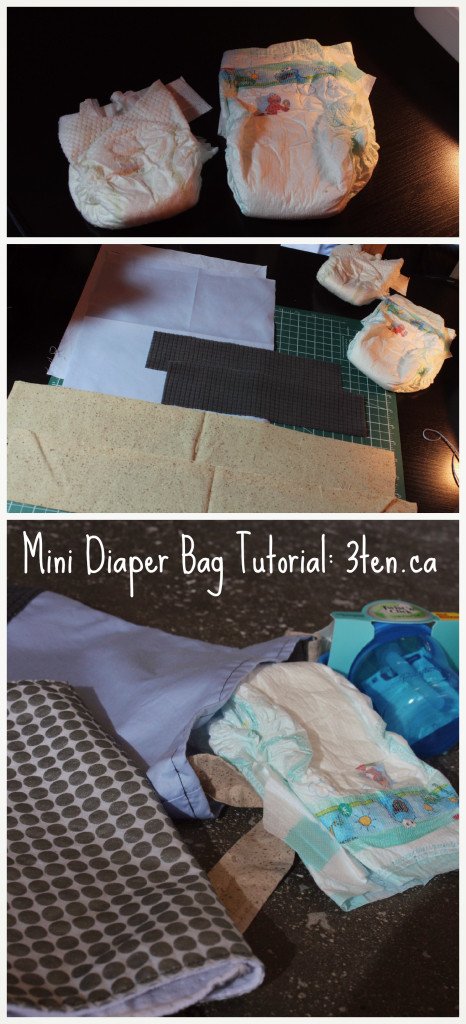 So – the logic behind this one. I have a big purse, it has my wallet, room for my phones, my planner, my current book or two, and sometimes even a pair of socks. There are times, however, when I just put my phone, debit card and my license in my pocket and hit the road. When you're a mom, however, I'm thinking the diaper won't fit in your pocket, hence this little grab and go mini diaper bag.
Maybe it's a little trip to auntie's house (yaya – that's me!) or a visit to the library to check out the new releases, either way, this small bag fits a diaper or two, some wipes and even your phone and a couple of cards.
What You Need
one fabric cut into 2 rectangles 6.5×8
another fabric cut into 2 rectangles 6.5×4
then, a third fabric 2 long pieces for the ties: 4×14
machine
iron
matching thread
The first thing I did was measure out to see if a diaper would fit in my measurements – good to go.
Cut your pieces using a rotary cutter and get ready to sew up!
First – fold the two long pieces, right sides together. Serge, leaving one end open and serge the other end to a point. Turn right side out through the open end and press.
Next – serge the small rectangle to the bottom of the larger rectangle (the 6.5 width). Then, serge both sides and then the bottom.
Time for the 'handle'. Pin the open end to the wrong side of the bag – right in the middle of each side seam – pin both 'handles' in place. Turn down the bag opening 1/2 and inch and then turn it down again (like rolling it, yet keep it flat) another 1/2 and inch. Now top stitch all around the top of the bag.
Done!
Keep full or keep handy so you'll have it ready to go. Fill it with a bottle, too and you'll be all set for a long walk – maybe the baby will even sleep.
Visit again – moving onto new fabric! Thanks so much for visiting and don't forget to Celebrate the Baby Boy.