Recipe: Blueberry Bundt Cake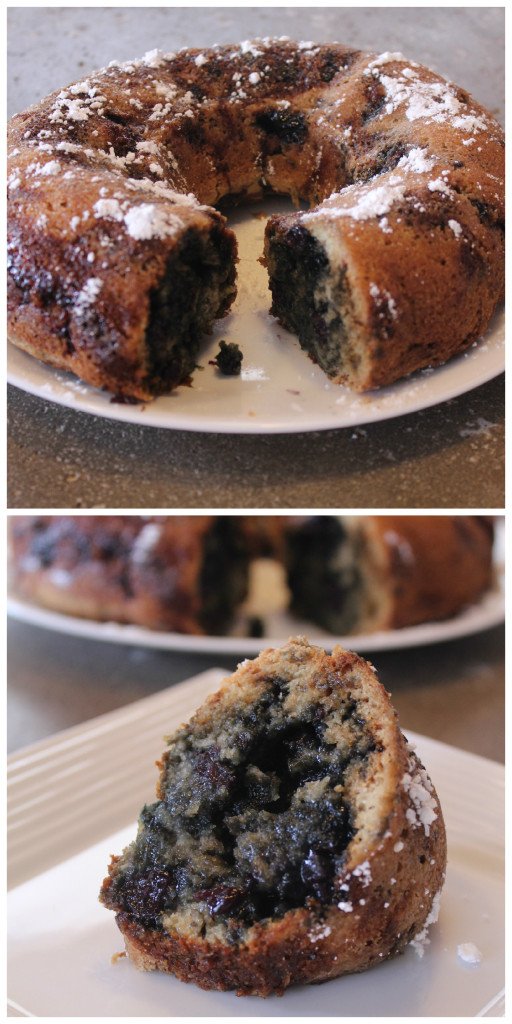 Blueberry bundt cake! Sweetness, especially on a sunny Sunday morning (that's when I made it…make your bundt cake this weekend!). Okay – I usually use fresh blueberries for this recipe, but not only did the store not have them…the store was offering 2000 points (which is 2$) per can of pie filling. Since the can was 2.49$, sure, I went for it. Turned out well – my suggestion, however, use fresh fruit – it's a healthier option. Once you've tried this recipe, be sure to try the blueberry buttermilk muffins, they are good, too!
Ingredients
1 1/2 cups of cake flour
2 teaspoons of baking powder
dash of salt
2 eggs
1 cup of white sugar
1/2 tablespoon of vanilla
1 cup of almond milk
a can of blueberry pie filling (or 2 1/2 cups of fresh blueberries)
First – mix together the flour, baking powder, and salt. Beat the eggs and the sugar together. Add in the vanilla. Then, slowly add in a bit of the dry mix and a bit of almond milk. Repeat until all well mixed.
Once you've got your cake mix ready, get out your bundt pan. First, layer down about 1/2 a cup of the cake mix. Then top with some of the blueberry pie filling. Use a fork to swirl it around. Repeat and repeat again until both the cake mix and the pie filling are gone.
Bake at 350 degrees for 35-40 minutes.
Let it sit in the pan for about 30 minutes. Then, carefully tip the cake over onto a plate.
Dash with icing sugar and you're ready to eat!
Put on a pot of tea and you're all set.
Enjoy this blueberry bundt cake – it's yummy in your tummy.
See you again soon.