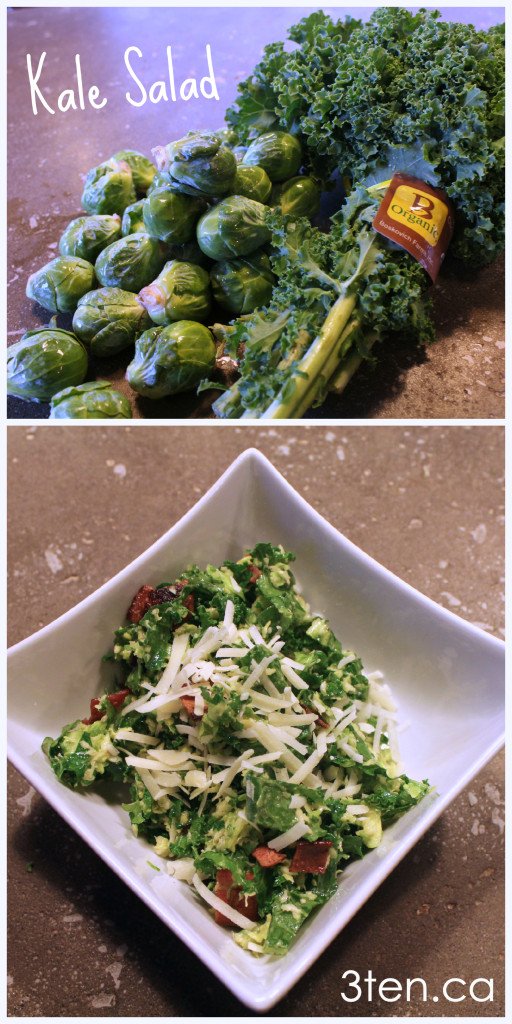 Kale salad – so last year? Maybe, but I love it all the same.
The trick to eating kale raw in in the olive oil – ensuring it has time to marinate and soak, making the kale tender and enjoyable. Try this kale and brussels sprout salad today!
Ingredients
1 lbs of (about 25) brussels sprouts
1 1/2 bunches of kale
8-10 strips of turkey bacon
handful of sliced almonds
1/2 cup of parmesan cheese
Dressing
juice from one lemon
2 tablespoons of dijon mustard
1 shallot
2 garlic cloves
1/2 cup of olive oil
salt and pepper
First – wash your brussels sprouts and kale. Next, thinly slice the kale. Grate the brussels sprouts.
Next – set the greenery into a bowl and move aside. Time to cook the turkey bacon. Dice into abut 1/2 inch squares and cook until crispy.
Dressing time!
Put all of the ingredients into your food processor and mix well. That's it – done.
Mix up everything (once the bacon is cooled) and let sit for about 7 minutes.
Dish out and top with parmesan cheese.
Eat up.
I hope you've enjoyed the first five spring salads – they are easy to make and don't taste like your ordinary salad.
Stop by again to check out the last two salads of this series.