Before the Trip
Crossing the border into Mexico – through San Ysidro, San Diego. The plan – visit Tijuana, Mexico for a few hours while we were vacationing in Southern California.
I called our car insurance provider to ensure we would be covered if something happened – minor damage all the way up to third party liability – she said no. Actually, she screamed NO in capital letters causing me massive frustration. In response I articulated that we were not the first, surly, to venture via vehicle from Canada to Mexico. She then offered to help – two options for insurance: 1, buy it at the border; 2, buy it online.
We took option two – Daily Mexican Auto Insurance. Cost around 45.00$ Canadian for the day (24 hours). Passports in hand, insurance set, and camera charged…we were off.
Crossing into Mexico
20 minutes…90 minutes…or even 180 minutes. For the month prior to our adventure I had been checking the wait times on Saturday mornings to get an idea of how long the border would take, both in and out of Mexico. We were ready.
Going in it took us 22 minutes. We didn't stop and talk to anyone – no border guard, no one to stamp our passports, no one to even think about buying insurance from.
Don't get me wrong, we crossed through a highly secure border. We drove through areas where if you backed up your tires would be spiked, or even areas of scanning where they were looking for hidden contraband. Simply seemed odd that we didn't talk to anyone, that's all.
Tijuana, Mexico
We are in!
Eats
First up – street meat.
After watching the locals for about 10 minutes (watching what they were ordering, how they were paying, and trying to figure out if it was pork, beef or what) we decided to go for it.
One mistake – we paid before we got our food. A nice lady (who seemed like the only one to speak a bit of English) told the cart guy, so we didn't have to pay twice.
Spicy.
The Market
Next we walked around the market core, seeing vendors, street dogs, and a lot of chilies for sale. It was fun. Someone mildly threatened to steal the camera, another tried to get us to enjoy a donkey ride, and lastly, we were offered every prescription drug you can think of. They yelled, "Percocet, Ritalin, Xanax – get it here!"
Ah…no thank you.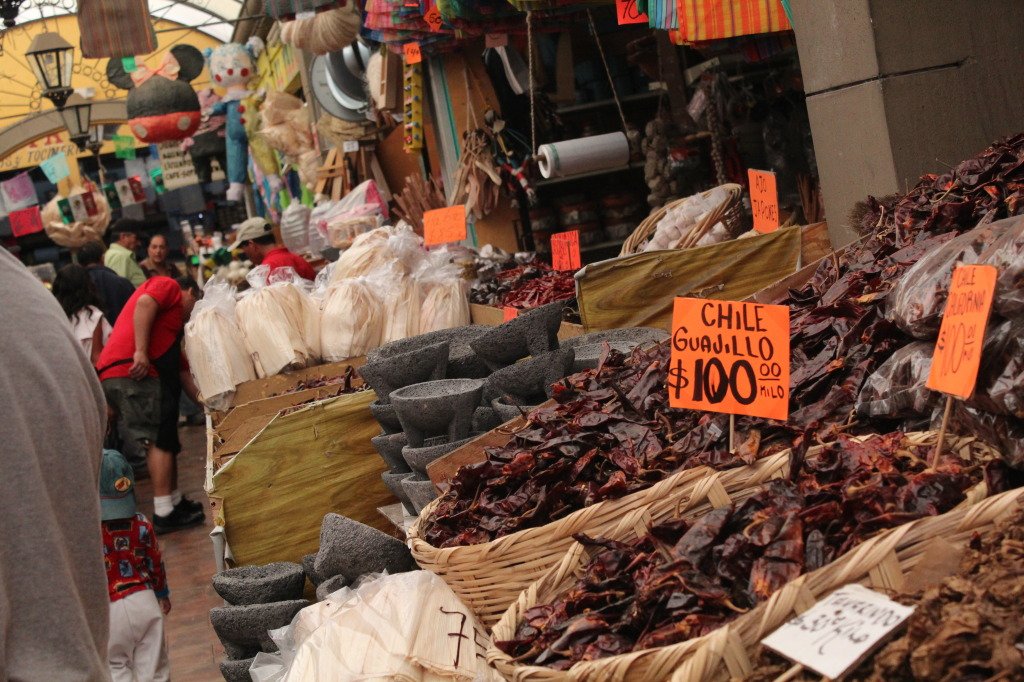 Crossing back into the United States
Oh, goodness.
I can't read Spanish. Looking for I-5: San Diego to get us back across the border. Seems logical, right?
Ah, no.
We first ended up in the medical line. A special border line for people with severe medical issues that need to enter the United States in an expedient way. Not for us. The border guard told us how to get back to a regular line…left, left and then right. I can follow that.
Taking the 3 turns carefully, we witnessed 2 car accidents – happy we purchased insurance. Okay – we're in line. People are selling headphones, cold drinks and phone chargers. Neat. Our 5 lanes start to break off into 10 lanes – each with a border guard. Man, that was fast. Only 12 minutes and we're the 5th car in line. So awesome.
Sentri
Wait. Everything says SENTRI. Get your SENTRI card ready. What the?!
Every sign is in Spanish and I have no idea what SENTRI is…take a deep breath and prepare to answer a lot of questions. We pull up to the border guard and he asks where our SENTRI cards are…we have no idea. I tried by asking if it's like Nexus – in my home town of Sault Ste. Marie, we have Nexus, is it like that? NO. Okay, point taken.
The guard asked, "when did you enter the United States?"
My husband responds, "last Saturday, through Montana."
Again, the guard in a firm tone, "your passports are not stamped?"
Now, I speak up, "The US border rarely stamps our passports when we enter from Canada – maybe once or twice when we leave through the airport, but hardly ever at a land crossing." I keep talking, because it's what I do when I'm nervous, "in my home town I used to work on the American side and I would cross every day, or 5 days a week, and the guards never stamped my passport."
Okay…he had enough back and forth. We were sent to secondary inspection and told that the fine for using the Secure Electronic Network for Travellers Rapid Inspection, aka, SENTRI line without proper documentation is $5000.00 cash, in US currency or our vehicle.
Breathe
We make our way over to secondary inspection and we can see a Toyota Tacoma that has its muffler on the ground, body panels leaning against the posts and someone trying to take out the seats. I'm not nervous. We have nothing to hide. 5000$ cash for a quick trip to Mexico, not quite worth it, however, if that's the rule, that's the rule. I follow rules.
In the end, my husband (the driver) got a warning. He had to sign a government document stating he will comply in the future and understands the mistake he made. Our car stayed fully intact and our return border crossing took about 70 minutes.
All is well, and we feel like we won 5000$, since we didn't have to pay. Perspective.
Happy Friday!