Recipe: Spinach and Roasted Chicken Salad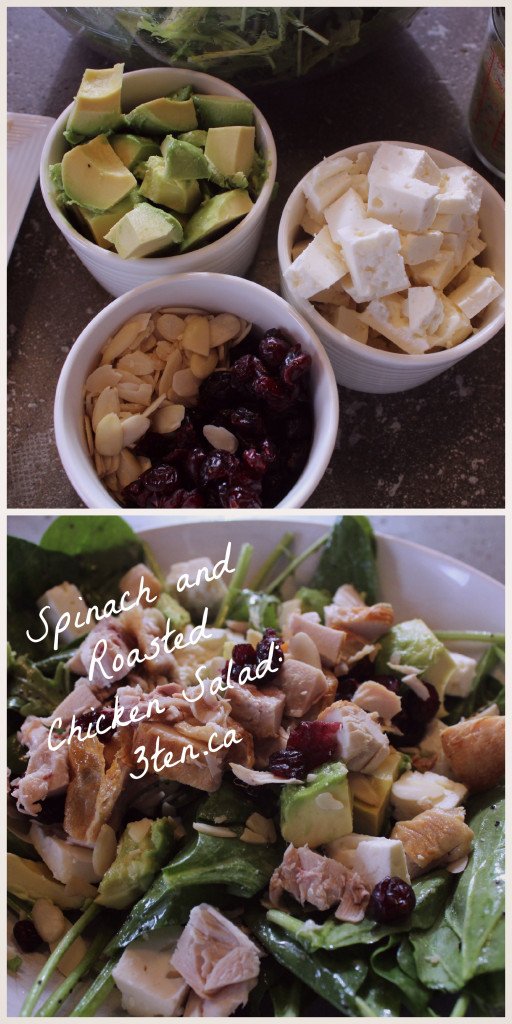 Spinach and roasted chicken salad – the perfect way to ring in spring!
We usually always have chicken in our fridge, whether it be roasted, baked, or bbq'd…we make extra. This salad was quick and easy because I had the roasted chicken already made. Regardless, it's worth the time and the effort to turn this light salad into a dinner salad by adding a protein. This recipe is adapted from cooking classy…I've made a few changes (like adding arugula, using fresh juice in the dressing, and adding more of the 'stuff') and made it suit us and our tastes. It's better my way. Try it!
Ingredients
3 pieces of roasted, on the bone chicken
1 bunch of fresh spinach and arugula
2 avocados
1 1/2 cup of goat's feta cheese
a handful of cranberries
1 cup of almond slices
Dressing
1/3 cup of fresh squeezed orange and lemon juice
3/4 cup of olive oil
3 tablespoons of dijon mustard
1-2 tablespoons of poppy seeds
First – gather all of your salad ingredients. Wash and spin the spinach and arugula.
Second – gather all of your dressing ingredients. Mix them well – whisk until well blended.
Time to get the roasted chicken. The skin looks a little tired from being in the fridge overnight…not to worry, it will be great on this salad.
Cube your avocados and crumble your goat's cheese. Get your cranberries and almonds ready.
Looks so good – I steal cheese and avocado pieces…they need to be tasted first, right?
Mix everything together well. Add the dressing slowly and mix as you go – you don't want to drown the salad. Once it has enough dressing, serve right away.
Enjoy!
Stick around over the next 2 weeks for more spring salads – you won't be able to get enough.