Recipe: Heirloom Potato and Bacon Salad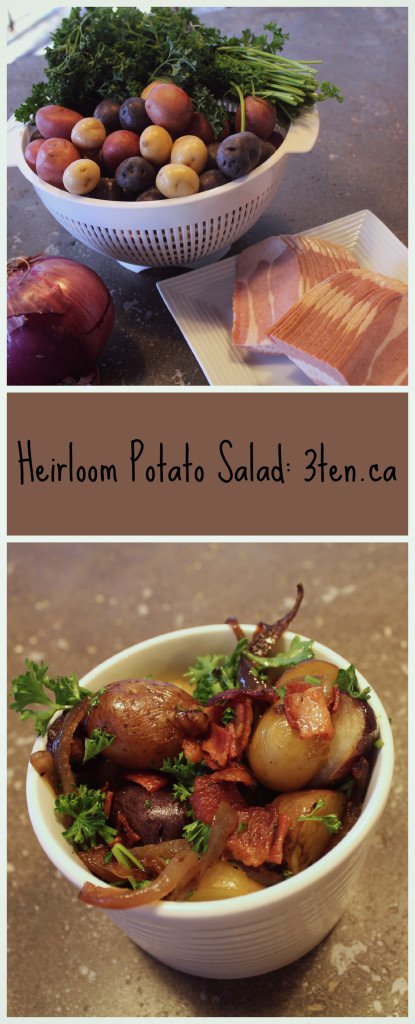 Heirloom potato and bacon (well, turkey bacon) salad. So good. This salad is a tad on the hearty side, yet it's a good way to bring in spring…especially on this March-filled day. Heirloom vegetables are awesome – if you haven't tried them yet, please do. The recipe here is adapted from the cozy apron – yet different, so give this one a try.
Okay…on to this delicious salad.
Ingredients
2 bags of heirloom mini potatoes
3 tablespoons of olive oil
salt and pepper
1 red onion
2 tablespoons of butter
1/2 a bunch of parsley
12 strips of turkey bacon
Dressing
6 tablespoons of olive oil
3 tablespoons of apple cider vinegar
3/4 teaspoon of dijon mustard
a few dashes of Italian seasoning
salt and pepper
First – wash your potatoes (even if the bag says pre-washed) and gather all of your ingredients.
Cut all of the potatoes in half and toss in the olive oil, salt and pepper. Put in a glass baking dish and bake at 400 for 40 minutes (or until done).
Put the butter in a pan and let it melt. Add in the thinly sliced red onions and cook until brown. In another pan, dice the turkey bacon and cook. Once done, set aside to cool.
Next – dressing time. Whisk all of the dressing ingredients together. And be sure to get a piece or two of bacon in there…haha.
Once the potatoes are done, be sure to let them cool. We eat this salad cool, not hot. Mix the potatoes with the cooled onions, bacon, and the chopped parsley.
Serve.
Eat.
So good. Cold or warm.
This spring salad is also delicious the next day for lunch. Check back soon for more spring salads!