Sewing: Hot Wheel Car Garage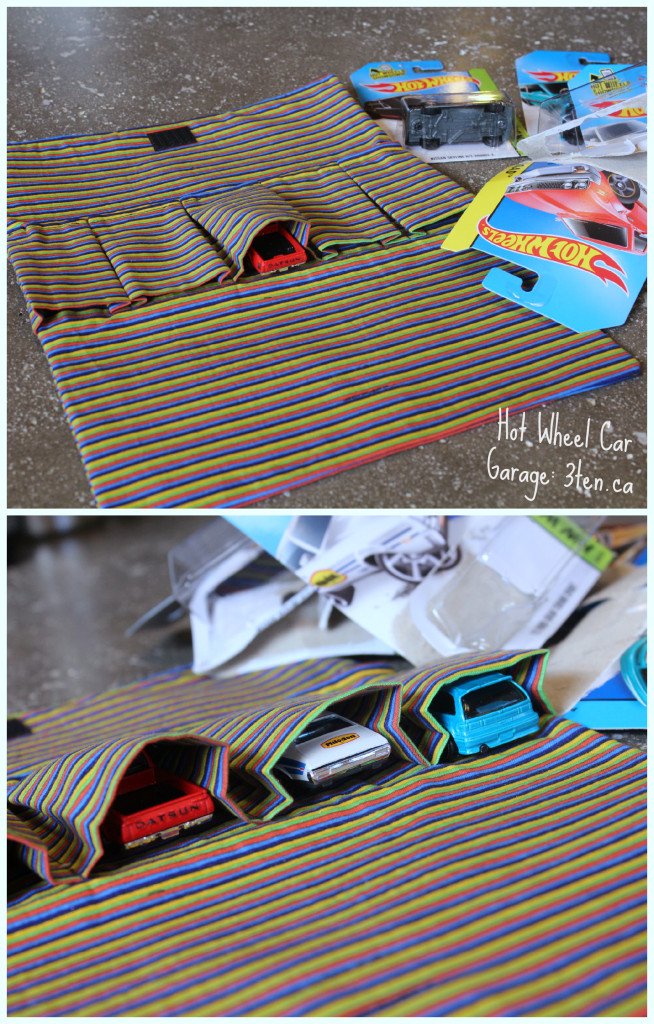 What kid, girl or boy, doesn't like to play with cars? Everyone likes to play with cars, right! This tutorial for a hot wheel car garage may not be for a new born baby, yet it'll sure come in handy a little longer down the road.
Time to sew up!
What You Need
2 pieces of fabric and interfacing 11 inches by 12.5 inches
1 piece of fabric 20 inches by 8 inches
small piece of velcro – 1 inch by 2 inches
machine
matching thread
iron
ironing board
5 hot wheel cars
First – gather your fabric and if you're using a fabric with a fun print on it, ensure that you've got the print going the right way. (The fabric is 11 inches wide and 12.5 tall).
Iron on your interfacing to the back side of the 11×12.5 pieces. Take the 20×8 piece and fold it in half, so it measures 20×4. Stitch all around with right sides together, leaving a small opening to turn it right side out. Leave the hole opening for now – yet be sure to use it as the bottom of the garage so it gets closed up.
Next – take one of your 11×12.5 pieces and lay it right side up. Place the 20×4 piece across it, with the opening end closer to you – the edge you will be stitching.
Measure – it should be 4.5 inches from the bottom and, also, keep an eye on that pattern.
Now – pin each side in place. You'll have a lot of fabric left in the middle, this will create each garage. Move the fabric around until you have 5 peeks. If you do a bit of math, it's easy to figure out. Your piece measures 20 inch long, so each garage is 4 inches, thus if you measure from one end 4 inches and pin, then 4 inches and pin, then again two more times, you'll be good.
Use a chalk pencil and make a line – then top stitch along that line securing each garage in place (don't forget to stitch the sides).
Time to fold the bottom into pleats (remember, you still have that opening that we will be stitching closed). Lay each garage flat and fold it over at the edge (the top stitch line you just made).
Use a denim needed since you'll be going though a few layers of fabric (at some spots, 8 layers). Top stitch along all pleats securing them in place and closing up the opening from earlier.
Now, grab the other 11×12.5 piece and place right sides together (the garages will be squished on the inside). Stitch all around, leaving a 4-5 inches to turn it right side out. Once it's right side out, top stitch all along the outside securing the opening you used to turn it out.
Next – velcro. Place one end of the velcro on the inside and the coordinating piece on the outside at the other end. Ensure they match up (with cars in the garages) before you secure in place.
Open the cars and get ready to play.
Done.
This little garage carrier is perfect for visiting a friend, watching dad play hockey, or even a sister dance.
Hot Wheel car garage is my favourite tutorial in the whole Celebrate the Baby Boy series – which one is your favourite?
Visit again soon.