Recipe: Chex Peanut Butter Bars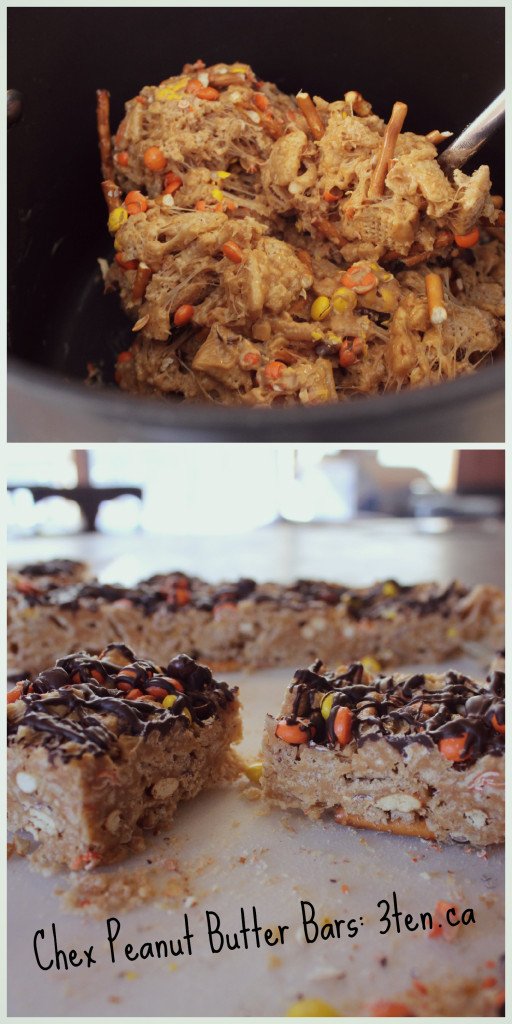 Chex peanut butter bars – so good. Why chex? A while back we cut out a lot of gluten and chex is now just a staple in our house, so why not! Also, peanut butter is so good…try these today.
Ingredients
7-8 cups of chex cereal
4 cups of marshmallows
3/4 cup of peanut butter
4 tablespoons of butter
1/2 cup of reeses bits and pretzel pieces
3-4 oz of chocolate
First – gather all of your ingredients…and don't forget the good stuff.
Melt the butter on medium. Then add in the marshmallows (you can use big ones or small ones, doesn't really matter). Stir until they are melted. Add in the peanut butter. Keep stirring. You don't want to leave the pot unattended. Then, add in the chex cereal and get ready for an arm workout. Mix quickly.
After you've mixed in the chex, add in 1/2 of the reeses bits and all of the pretzels.
Push the mixture into a parchment paper-lined pan and then push in the remaining reeses bits.
Melt the chocolate in the microwave, on half power, stirring every 30 seconds. Then, use a fork (better than a spoon – makes thinner lines) and drizzle the chocolate over the chex mix. Cool in the fridge for at least 30 minutes and then cut.
Done!
Time to eat.
Enjoy this simple treat.
Visit again soon…March is going to be sensational!