Recipe: Oscar Popcorn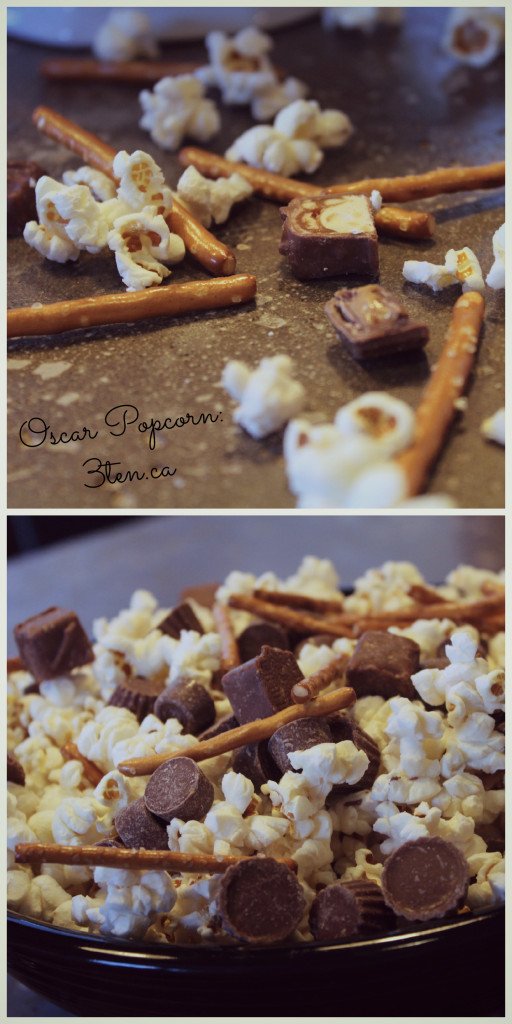 Oscar popcorn for Oscar night – time to show your love of movies!
This popcorn is a delicious treat for any movie night…not just award night. Pop some corn up and add some treats – get ready to eat.
Ingredients:
1 cup of popping corn
2-3 tablespoons of sunflower oil
1 cup of snickers bits
1 cup of reese bits
1 cup of rolo bits
1 cup of pretzels
First – gather all of your ingredients. Get a huge pot – one with a lid. Pour in the oil to cover the bottom of the pan. Turn your burner on medium. Pour in the popping corn. Once you hear the first pop, place the lid on the pan and shake every 30 seconds or so to move the kernels around. Once most kernels are done, the popcorn is ready!
While your popcorn is popping – get your candy ready. I cut some of the 'bits' in half – just for more texture.
Once the popcorn is cooled, mix everything together!
Done.
Time to eat up.
Enjoy the night and have a great week.
Happy Oscar watching.