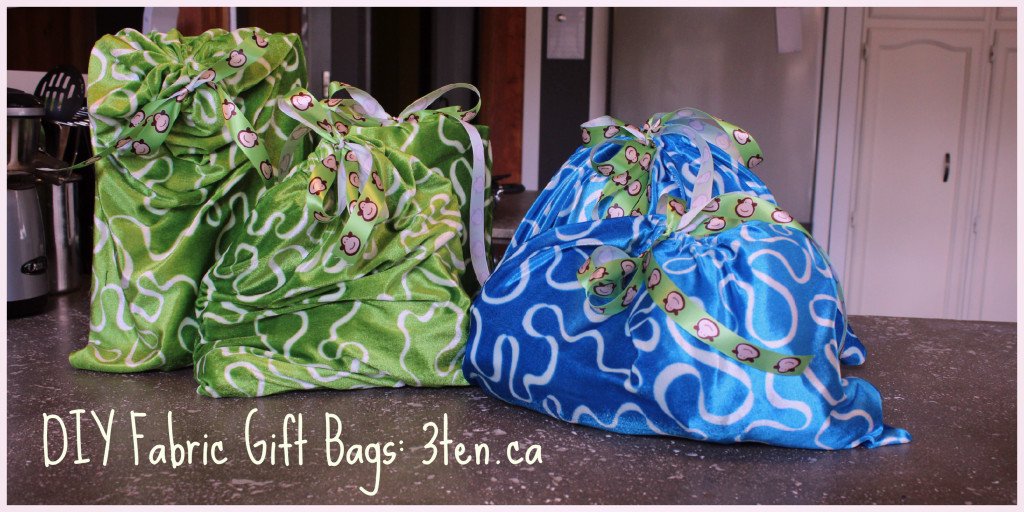 Last tutorial – gift bags, a nice way to parcel up each gift. The best part, you can reuse them! Check out this quick and easy tutorial.
What You Need
fabric the a bit bigger than the size of your gift
ribbon
machine
matching thread
First – ensure your fabric will be large enough to fit the item you want to wrap. Then, with right sides together, serge the sides and the bottom.
On the top, fold down about 1.5-2 inches and top stitch. Then, cut 2 small openings for the ribbon (if you fabric will fray a lot, either use Fray Check or make 2 button holes before you top stitch the casing. Feed the ribbon through and you're done.
Gift Bag One
Gift Bag Two
Gift Bag Three
Thanks so much for Celebrating the Baby Boy with 3ten.ca!
Get ready for the Super Bowl tomorrow – check back here early tomorrow morning for some Super Bowl Eats!